Hunter has taken the internet by storm becoming a total sex icon among the rainbow community! We've had a chance to catch up with Hunter and see what the social media sensation has been up to.
You've become a social media sensation, how does it feel that people know you by name?
It's surreal. I'm still getting use to it and I'm so flattered that people even remember me! I try to talk to anyone who takes the time to say hi to me so please come say hi if you see me out!
What are some lesson or obstacles you've come across in your modeling career?
Loving myself and feeling like I am worth something. I grew up never being good at anything. I always put myself down and never felt I was good enough. When you start to believe in yourself and be who you are, people with the same interests or personality will gravitate towards you. You will find out that others believe in you too.
You recently did a photo shoot with Venfield8 where you went public with full frontal nudity, were you scared to release the uncensored photo?
I was so excited and nervous to do something full frontal and have it on the Internet. I trusted Venfield8 that he would make it tasteful and respect my privacy. He did an amazing job not only creating some amazing pieces with me, he also made me feel very comfortable in my own skin. So I wasn't very scared. It was a new experience for me and for my fans. I never want to get into the habit of showing myself full frontal. I don't want to be known for my crotch. I am more than just a sex symbol and I hope I'm able to express that more in future work.
Your beard is part of your trademark, how did your followers handle you shaving it off for a photo shoot?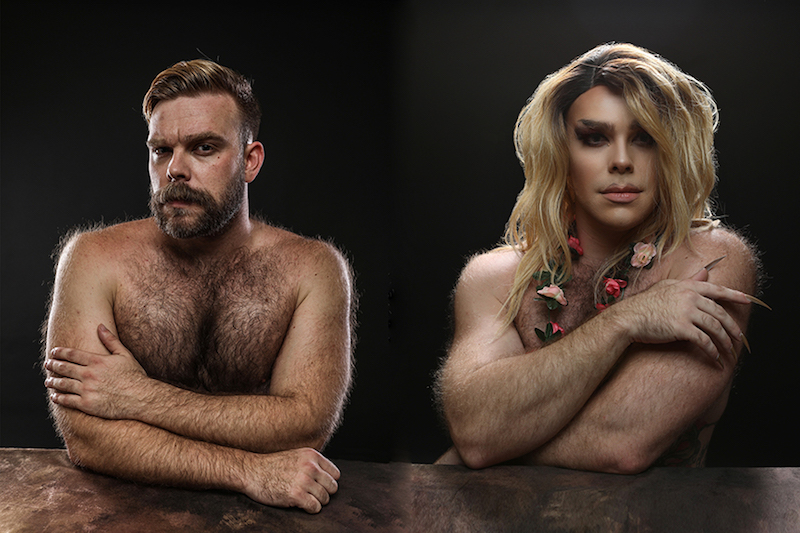 I think my fans had mixed emotions about it just like I did. It was for an amazing project, Femme The Man project by Thomas Evans. Not only did I shave my face, I also got in full drag. It was just another of the many sides of me. I was scared I would look like a turtle and everyone would hate the way I looked. I got great responses from it but in the end, everyone including myself wanted my beard back. I'm working on the confidence to rock any look thrown at me.
What are some things your followers can look forward to from you?
I am working on a calendar called "Dad Next Door" that will hopefully be ready for 2020. I'm also planning a video podcast reviewing events and products, interviewing gay icons, and so much more! I have always aspired to be an actor, and could even be in a reality show sooner than you think! I will be flying to EVERY event I possibly can in 2020 so I can meet more of my fans in person and showcase my talents. I have a lot of aspirations and goals. I'm excited for these next two years!
In some of your posts, you've mentioned an illness. How are you now?

I suffer from Cluster migraines since I was a child. The past 5 years have been extremely challenging with having a migraine 5-7 days a week. I lost everything I worked for: jobs, savings, career, my life in general. I lost all hope and it scared me. I was being turned away by doctors and neurologists cause they didn't know how to help me after I tried every FDA regulated treatment over the past 28+ years.
Last year a new treatment came out that I'm starting to see results with. I am getting healthier every day and it's the first time in my life that I see a future for myself. I can't thank my friends and family enough for their support both financially and emotionally. I felt so alone with migraines. This experience helped me see how much people care about me and love me.

HOTTIE QUIZ
THE ANIMAL I FEEL MOST CONNECTED TO:

Cats have a very special place in my heart. But my personality is definitely like a husky
PEOPLE WOULD BE SURPRISED THAT I'M FRIENDLY WITH:

Snakes, the literal reptile; not the person.
THE MOMENT IN MY LIFE I'M PROUDEST OF:

Getting the courage to see my Dad after 18 years. Also, being in an international selling Photography book, Larrikin Digs by Paul Freeman.
MY MOST OVERUSED WORD/PHRASE:

"Ew!"
THE LAST PHOTO I TOOK ON MY PHONE WAS OF:

My friend's dog laying on my lap
THE MOST UNEXPECTED THING IN MY BAG RIGHT NOW:

I am traveling right now! My carry on bag has a push pin. Not sure how it got in there but I just left it.

A SONG THAT MAKES ME WANT TO DANCE:

Ok, I'm naming 3:
YOU DON'T KNOW ME by Jax Jones
WAITING by Breathe Carolina
THATS MY GIRL by Fifth Harmony
SOMETHING PEOPLE GET WRONG ABOUT ME:

That I'm conceited or over-confident. I got into modeling to help me with my social anxiety and depression. I'm still learning to love myself and have more confidence in myself. I never think I'm better than someone else and I will always give someone the time of day and chat with them.
IF I WASN'T A MODEL, THIS IS A JOB I MIGHT TRY:

Therapist

BECAUSE:

I have been through a lot in my life. I learned from it and try to help others with my experiences. I feel fulfilled when I help others. It's my favorite thing.

*Header and Hottie photos by Venfield8 for Loverboy magazine.